Have you ever heard someone say "the opposite of love is fear, not hate"?
I recently read 9 Sins the Church Is Okay With, an article by Frank Powell.  Because the article was shared 249,000 times on Facebook and because I have since seen variations of the statement appear on numerous Facebook memes, I can only assume that it is relevant and reflects a general sentiment in the church at-large.
His #1 sin was the sin of fear.  I quote the entire section below since it is both short and very relevant.
The phrases "do not fear" and "do not be afraid" appear 365 times in the Bible. Ironic? I think not. And here's what I think the church misses about fear. Let me pose this as a question. What is the opposite of fear? Courage? Bravery? William Wallace?

Wrong. Wrong. And right, but you're ruining my point.

The opposite of fear is…LOVE. Add to this the reality that God is love. So, according to the Transitive property of mathematics, the opposite of fear is…God.

If you're a child of God, the one sin that shouldn't plague you is…fear.

Yet, Christians are the most fearful people on earth. Even our salvation is rooted in fear. Does it bother anyone that the primary method of bringing people to Jesus has been to scare them away from hell?

That's fear language, the antithesis of God. Look at what John says.

There is no fear in love, but perfect love casts out fear. For fear has to do with punishment, and whoever fears has not been perfected in love.1 John 4:18

The church is scared to make decisions out of fear. Christians are hesitant to step into dangerous situations out of fear. The catalyst for our obedience is fear. Where's the love?

Several weeks ago, I decided to remove the words "fear, scared, and terrified" from my vocabulary. Maybe you should do the same. It could change how you see the world. And God.
On first blush, we might agree with the overall sentiment.  After all, doesn't the Bible tell us that Christians are to be characterized by love?  "By this all people will know that you are my disciples, if you have love for one another."  – John 13:35 (ESV).  
Well….yes, but that's not what Frank Powell is saying.  He is making two completely different claims.  First, he is redefining fear.  Second, he is using that redefinition to eliminate fear from our vocabulary.  The implications of this are quite astonishing, and more than a little sinister.
The Bible says that the opposite of love is hate, not fear
Contrary to Powell's claim, the Bible does not contrast fear and love at all.  Consider the following passages:
Psalm 45:7 – "you have loved righteousness and hated wickedness"
Ecclesiastes 9:1 – "…the wise and their deeds are in the hand of God.  Whether it is love or hate, man does not know;"
Amos 5:15 – "Hate evil, and love good"
Matthew 6:24 – "No one can serve two masters, for either he will hate one and love the other…"
Hebrews 1:9 – "You have loved righteousness and hated wickedness"
I John 4:20 – "If anyone says, 'I love God,' and hates his brother, he is a liar."
This is a very small sample size of the love/hate juxtaposition in God's Word.  Wherever there is a contrast, love is always contrasted against hate.  Fear is never portrayed as the opposite of love.
I John 4:18 is a contrast between fear and confidence, not fear and love
The only verse Powell uses to support his claims is I John 4:18, which says "There is no fear in love; but perfect love casts out fear, because fear involves punishment, and the one who fears is not perfected in love."  (NASB)
At first glance, this seems to support Powell's claim.  But when you read the immediately preceding verses, it becomes clear that John is not referring to fear in general, but rather the specific fear of the Day of Judgment.
"By this we know that we abide in Him and He in us, because He has given us of His Spirit.  We have seen and testify that the Father has sent the Son to be the Savior of the world.  Whoever confesses that Jesus is the Son of God, God abides in him, and he in God.  We have come to know and have believed the love which God has for us.  God is love, and the one who abides in love abides in God, and God abides in him.  By this, love is perfected with us, so that we may have confidence in the day of judgment; because as He is, so also are we in this world."  – I John 4:13-17 (NASB)
In context, it is clear that John is telling Christians that they have nothing to fear on the day of judgment because they have confessed that Jesus is the Son of God and therefore can have confidence in the love God has for us.  John is saying that this knowledge should produce confidence in us, not fear.  
The contrast is between fear and confidence, not fear and love.  
Two verses later John verifies this: "If anyone says, 'I love God,' and hates his brother, he is a liar."  I John 4:20 (ESV).  Not fears his brother, hates his brother.  The contrast is between love and hate.
When the Bible says "do not fear," it is always referring to something specific
Consider the following verses regarding fear in the Bible.  None of these are saying that fear should be eliminated from our vocabulary, as Powell suggests.  Rather, they are saying "do not fear" a specific situation.
Numbers 14:9 – "Only do not rebel against the Lord; and do not fear the people of the land, for they will be our prey.  Their protection has been removed from them, and the Lord is with us; do not fear them."
Matthew 10:28 – "Do not fear those who kill the body but are unable to kill the soul; but rather fear Him who is able to destroy both soul and body in hell."
Luke 12 – "Indeed, the very hairs of your head are all numbered.  Do not fear; you are more valuable than many sparrows."
Again, this is a very small sample.
Fear can be a gift from God
When I was a boy, I remember walking across a frozen lake.  When I reached a point far from the shore the ice began to crack and groan under my feet.  I was afraid because I knew that if I fell into a frozen pond with my heavy winter clothes on, it could mean that I might never come out again.  In this instance, fear was produced out of a natural instinct which prompted me to get off the ice and onto the safety of the shore.  This type of fear can quickly become groundless, or can escalate into needless phobias – such as a paralyzing fear of spiders or the dark – which Christians should not allow to overcome them.  But it is important to note that there is a natural fear born out of a God-given instinct of caution that we get sometimes when facing dangerous situations.  Fear cannot be completely removed from our vocabulary.
Fear of God is a mark of spiritual maturity
There are other types of fear that are not natural to the human condition but are essential nonetheless.  The Bible says that knowledge and wisdom are founded on fear:
"The fear of the Lord is the beginning of wisdom, and knowledge of the Holy One is insight."  – Proverbs 9:10  (ESV)
The Bible often includes the fear of God with other desirable attributes of a godly person:
"At Caesarea there was a man named Cornelius, a centurion of what was known as the Italian Cohort, a devout man who feared God with all his household, gave alms generously to the people, and prayed continually to God."  – Acts 10:1-2 (ESV)
The Bible contrasts fear of God with undesirable traits:
"Do not be wise in your own eyes; fear the Lord and turn away from evil."  – Proverbs 3:7 (ESV)
The Bible exhorts us to fear God:
"but live in the fear of the Lord always."  – Proverbs 23:17 (ESV)
And finally, the Bible simply tells us that God is to be feared:
"For great is the Lord, and greatly to be praised; He is to be feared above all gods."  – Psalm 96:4 (ESV)
Fear of God is a sign that you recognize God's holiness 
Consider men who have seen God or heard Him speak to them:
In Isaiah 6, the prophet Isaiah saw the Lord sitting on His throne, and was so undone by the experience that he pronounced a curse on himself!  
"And one called to another and said: 'Holy, holy, holy is the Lord of hosts; the whole earth is full of his glory!'  And the foundations of the thresholds shook at the voice of him who called, and the house was filled with smoke.   And I said: 'Woe is me!  For I am lost; for I am a man of unclean lips, and I dwell in the midst of a people of unclean lips; for my eyes have seen the King, the Lord of hosts!'"  (Isaiah 6:4-5 ESV)
Habakkuk questioned God and demanded an answer from Him.  He says: "And the Lord answered me," and when the Lord had finished Habakkuk was a wreck:
"I hear, and my body trembles; my lips quiver at the sound; rottenness enters into my bones; my legs tremble beneath me."  – Habbakuk 3:16 (ESV)
Job, too, demanded an answer from God and when God gave it to him Job said:
"I had heard of you by the hearing of the ear, but now my eye sees you; therefore I despise myself, and repent in dust and ashes."  – Job 42:5-6 (ESV)
When Jesus calmed the storm on the lake by rebuking the wind and the raging waves, the disciples were terrified:
"And they were afraid, and they marveled, saying to one another, 'Who then is this, that he commands even winds and water, and they obey him?'"  – Luke 8:25 (ESV)
In each of the above illustrations, knowledge of God and worship of God is always preceded by a fear of God.  This puts the matter beyond doubt.  Fear is not the opposite of love, and in some cases fear is a good thing.
Contrast this with Frank Powell's final statements: "Several weeks ago, I decided to remove the words 'fear, scared, and terrified' from my vocabulary.  Maybe you should do the same.  It could change how you see the world.  And God."
In light of all we've just read, doesn't that statement sound just a little silly?  "The fear of the Lord is the beginning of wisdom", (Psalm 111:10, ESV) so we should remove it from our vocabulary?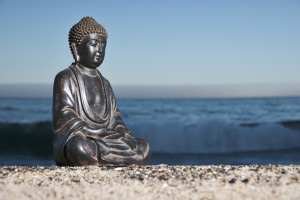 Where did this come from and why is it important?
The notion of fear as the opposite of love is not born out of the careful study of the Bible or even a careful study of the dictionary. Rather, it is a distinctly mystical construct that neither recognizes the Gospel nor follows Christ or worships God in any way.
Consider others who have used this exact statement: "The opposite of love is fear, not hate"
Yoko Ono, widow of John Lennon, tweeted this exact phrase in 2010.  The same Yoko Ono who lends support to Mahrishi, who developed Transcendental Meditation.
Dr. Annie Paxton, a self-proclaimed scribe to the spiritual force called The Basidian who supposedly inhabit the Sirius star system, uses the exact statement in her book, Opening the Door to the Worlds: a Handbook for the Future.
The phrase is used by by Tom Campbell, a noted physicist, who has devoted his career to researching alternate states of consciousness.  
Campbell's theories are referenced in an excellent explanation of this concept by Red Pill Philosophy- an obvious reference to this https://www.youtube.com/watch?v=zE7PKRjrid4.  
The lie that fear is a primitive feeling
In the video, note what is said at 3:10:
"The primitive part of our mind that's been evolving for, you know, hundreds of thousands millions of years, that part of your brain will tell you 'Run from fear.  Run from the predator in the jungle that's trying to kill you.'  It will tell you to avoid uncomfortable situations because that might mean you will lose your connection with the tribe.  But we don't live in this world anymore, we don't live in tribes anymore, we've evolved into this gigantic civilizational thing we call society; which in reality is not to be confronted and handled the way our evolutionary and primitive brain wants to handle these things.  To the contrary, the way that you want to handle fear is to confront it.  You do not move away from fear you have to move towards it, because in the process of moving towards your fears you're actually confronting the reason that you're hateful and you're moving closer towards love."
A couple of weeks ago I posted how Evolution is fundamental to Liberal ideology.  Near the end of the article, I provided some quotes from a study by Avi Tuschman on the evolutionary origins of the Conservative/Liberal divide.  Tuschman's conclusion was that Conservative thought and religious thought are carryovers from a primitive time in man's evolutionary development, one in which fear was necessary for survival.
Fear becomes the primary criticism of Conservative Christians who oppose sin
Popular singer and noted Liberal, John Legend, gives us the practical side of this in his May 2014 commencement address to the University of Pennsylvania's graduating class:
"We're taught when we're young that the opposite of love is hate. But it's not. Hate is a byproduct. Hate is a result. Being a hater isn't cool. Nobody wants that. But hate comes from one thing: fear. And fear is the opposite of love. It's not a coincidence that when we talk about bigotry, we often talk in terms of fear: homophobia, xenophobia. Fear is what blinds us. Fear is corrosive. Fear makes us hold back. It whispers to us, tells us that we'll fail. It tells us that our differences are too much to overcome. Fear locks us in place. It starts fights. It causes wars.

And fear keeps us from loving."
And later he says:
"So love your self, love your work, love the people around you. Dare to love those who are different from you, no matter where they're from, what they look like, and who they love."
Once again, we see the notion that fear causes us to reject others.  Perhaps the best summary I have read on this is a post on Creationislove.com entitled The Truth Behind Being Gay.  Under the sub-heading Opposite of Love is Fear the author, Norman, echoes John Legend's sentiments in a more direct way:
So what were all the intolerance, anger and non acceptance about in the first place? Well fear of course. If god is love, then the polarity of that which is the darkest things that men do derives from its opposite, which is fear. The opposite of love is fear, not hate. Hate is a byproduct of fear and man's fear always precedes his hate.

Our world, or society, is on a constant expansion of consciousness, is constantly maturing. We are growing up in more ways than one. And at each maturation level we are exposed to more and more truths and we have to process it and be OK with it. Our first response when faced with new and different occurrences is to react in fear. To say no, to fight against the change be it people or information.

A famous and obvious example is of the so called colored people in our society. How did society, the haves, deal with the influx of other people who had not? At first they reacted sternly with no! And as time went on, we now have a black president.

This is the way of the world, of human nature since the fall of man. Be it people from Africa being labeled slaves, or people from Mexico being labeled as illegals, or people who are just being true to their nature being called homosexuals. We tend to react in fear and say no, then eventually we seem to accept what is. Eckhart Tolle and Buddha both say: "all suffering comes from not accepting what is".
In this post we have a summary and binding together of all these principles.  A combination of mysticism and Liberal ideology rolled into one.  Fear is the opposite of love, we fear because we are the "haves" and we fear others taking from us, fear causes us to hate, hate causes us to suppress the world around us, and fear is a result of our primitive evolutionary tendencies which we must work to overcome.  
This is the Liberal world view in a nutshell.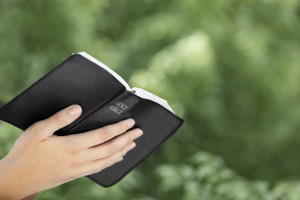 Concluding words
The best lies contain traces of truth.  Some of what Frank Powell and John Legend and the others, as well as numerous internet memes floating around Facebook are saying is true and good – after all, we are to be characterized by love, right?  But it is vital to understand that the idea of fear being the opposite of love, and the idea of eliminating fear from our vocabulary is not from the Bible, but rather is both mystical and Liberal in origin.
Godly love (which sometimes includes confrontation over sin) and biblical fear (which is the fear of God) are eliminated or morphed into something fundamentally different and altogether inert: namely, the acceptance of everyone and the abandonment of biblical discernment.  Anyone who does not conform to this new definition is labeled with a phobia.
In order to paint an old window frame, you must first strip the old paint away with a scraper and wire brush.  Only then will the new paint stick.  In order for our enemy, Satan, to infiltrate the church, he must first wear down our opposition to sin.  Then, only when sound biblical principles are stripped and brushed away, will new theology stick on our hearts.  He does this by calling us fearful and telling us that our opposition to issues such as homosexuality are based on needless fears, and that love is the ultimate objective.
And so, many in the church accept these new definitions because they sound good and have sprinkles of truth in them.  But they do not realize that they are yielding ground to an enemy who wishes to destroy them.
We are in a spiritual war.  God tells us to "Be sober-minded; be watchful. Your adversary the devil prowls around like a roaring lion, seeking someone to devour."  – I Peter 5:8 (ESV)
If "The fear of the Lord is the beginning of wisdom", then there can be no doubt that our enemy, Satan, would like nothing more than every Christian to follow Frank Powell's advice and remove fear from our vocabulary.