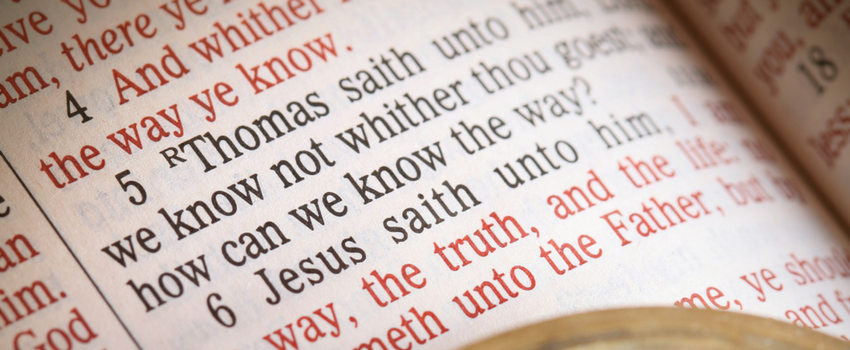 What is truth? On the surface, it seems a simple question. Yet as personal experience and much of human history reveal, the answering of the question is much more complicated than the asking.
The subject of truth comes up often in John's gospel account – my favorite of the four, by the way. Just consider how John introduces us to Jesus.
"And the Word became flesh and dwelt among us, and we have seen his glory, glory as of the only Son from the Father, full of grace and truth."
A bit later, during Jesus' public ministry, John records a great promise Jesus makes to those who believe him.
"If you abide in my word, you are truly my disciples, and you will know the truth, and the truth will set you free."
And again, a bit later, John relays how Jesus answers Thomas.
"I am the way, and the truth, and the life. No one comes to the Father except through me. If you had known me, you would have known my Father also. From now on you do know him and have seen him."
To sum up, we see from John's gospel that Jesus is the Word made flesh, full of grace and truth. If we are truly his disciples, we will know the truth and the truth will set us free. And indeed, Jesus himself is the truth.
This answer seems very simple. Indeed, if this is how we answer the question, we are doing well. Yet it goes without saying that this is not how everyone answers. There is some disagreement as to what truth is, or whether we can know it. And there is certainly disagreement as to who Jesus is.
Pontius Pilate's Answer
For instance, consider the response of Pontius Pilate, the Roman authority in Judea whom Jesus was sent to for execution by the Jews after he was arrested. John records the conversation between them.
So Pilate entered his headquarters again and called Jesus and said to him, "Are you the King of the Jews?"

Jesus answered, "Do you say this of your own accord, or did others say it to you about me?"

Pilate answered, "Am I a Jew? Your own nation and the chief priests have delivered you over to me. What have you done?"

Jesus answered, "My kingdom is not of this world. If my kingdom were of this world, my servants would have been fighting, that I might not be delivered over to the Jews. But my kingdom is not from the world."

Then Pilate said to him, "So you are a king?"

Jesus answered, "You say that I am a king. For this purpose I was born and for this purpose I have come into the world—to bear witness to the truth. Everyone who is of the truth listens to my voice."

Pilate said to him, "What is truth?"
Here Pilate is confronted with a choice. Enough Jews want Jesus dead as to feel bold enough to chant "crucify him" to the occupying Roman authorities. Yet when Pilate interrogates Jesus to determine what he has done deserving of death, he finds no fault in him. Pilate even says as much to the Jews assembled. Yet they are insistent.
When pressed, Pilate shrugs. "What is truth?" His answer to Jesus is cynicism. In other words, he chooses to remain agnostic even while staring the very embodiment of truth and goodness in the face. His truth is that crucifying an innocent man is expedient.
Love Does Not Shrug At Truth
The Apostle Paul writes to the church in Corinth at one point.
"Love is patient and kind; love does not envy or boast; it is not arrogant or rude. [Love] does not insist on its own way; it is not irritable or resentful; [Love] does not rejoice at wrong-doing but rejoices with the truth. Love bears all things, believes all things, hopes all things, endures all things."
We see then that love for God and one another does not shrug at truth. Rejoicing with the truth is not only the opposite of shrugging at it; Paul here contrasts rejoicing with the truth against rejoicing at wrong-doing. In other words, you must pick a side. Neutrality is not an option.
As Dietrich Bonhoeffer says: "Silence in the face of evil is itself evil; God will not hold us guiltless. Not to speak is to speak. Not to act is to act."
And Paul writes in another place:
"Remind them of these things, and charge them before God not to quarrel about words, which does no good, but only ruins the hearers. Do your best to present yourself to God as one approved, a worker who has no need to be ashamed, rightly handling the word of truth."
We have, therefore, not only the freedom to embrace and pursue truth, as if what God has to say about truth is as mild as the 1st Amendment saying we have the right to free speech. And nowhere in the Scriptures are we given license to have our own private truth like post-modernists make a habit of. Rather, we are explicitly and repeatedly commanded by God to know, understand, embrace, defend, and promote truth. We have a solemn responsibility before God.