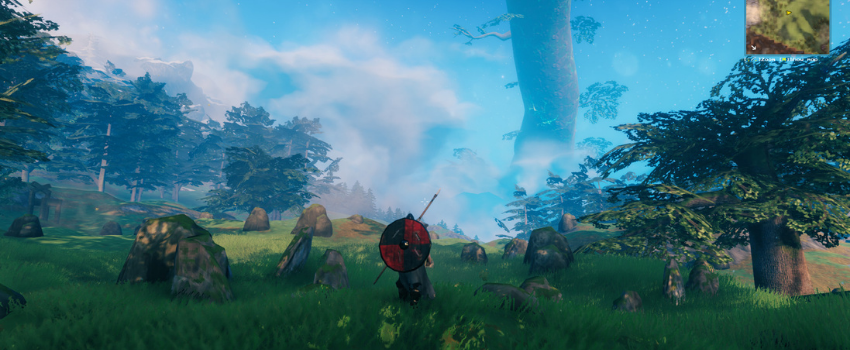 The Garrett Ashley Mullet Show – Playing Valheim With The Boys
Let's talk about playing Valheim – the new Viking survival game I have been enjoying with my sons and an assortment of friends and family.
We have learned some important life lessons so far. Team work, strategic thinking skills, and how to fell trees without them dropping on your head – it's all here, folks.
The graphics may not be anything to write home about. As many have pointed out, the game has a very Minecraft feel to it where textures are concerned. But the map to explore is huge and randomly generated. The score is relaxing and appropriately themed. And the lighting effects and scope of vision are downright breathtaking sometimes. Not only that, but the building, crafting, and requisite resource collection mechanics are deeply satisfying and engaging.
Also, more broadly, how do we think about videogames and computer games? As I have argued before, play can be more than entertainment. If we choose to utilize them this way, playing videogames can be an excellent medium for learning. But we have to be intentional and strategic about what games we play, as well as how and why we play them.
Listen to this episode of The Garrett Ashley Mullet Show to hear all about it.
DeSantis vs. Newsom, and Why We Can't Just Have a Populism That Builds
–
The Garrett Ashley Mullet Show
Then a wise woman called from the city, "Listen! Listen! Tell Joab, 'Come here, that I may speak to you.' " And he came near her, and the woman said, "Are you Joab?" He answered, "I am." Then she said to him, "Listen to the words of your servant." And he answered, "I am listening." – 2 Samuel 20:16-17   This Episode's Links and Timestamps: 00:24 – 2 Samuel 20 06:19 – Thoughts on the Reading 37:38 – Why Can't We Have a Populism That Builds? – Aaron M. Renn 57:56 – The Trump team posted this alternate version of Thursday night's governor's debate between Newsom and DeSantis and I can't help but laugh – Cardinal Pritchard, NTB 1:06:24 – DeSantis and Newsom Spar in Debate Hosted by Fox News' Hannity – Headline Roundup, AllSides 1:09:39 – DeSantis vs Newsom face off on abortion, transgenderism, wokeness and more – Fox News 1:14:03 – Check out the highlights of the DeSantis-Newsom debate and decide for yourself who got absolutely clowned – Harris Rigby, NTB 2:01:58 – 'We're Done': Newsom's Wife Intervened To End Debate Against DeSantis, Report Says – Ryan Saavedra, DW — Send in a voice message: https://podcasters.spotify.com/pod/show/garrett-ashley-mullet/message