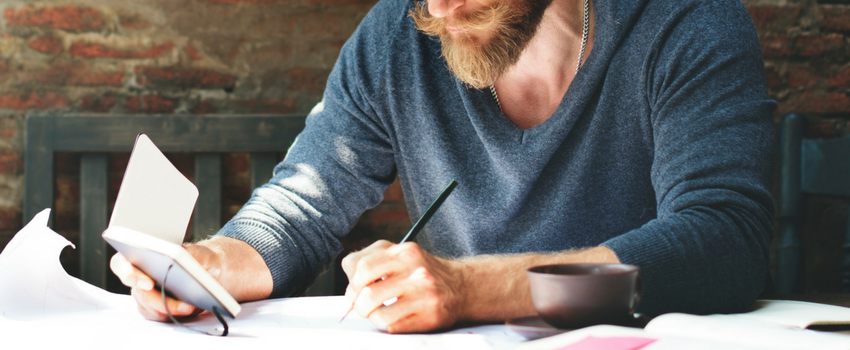 A new year began last week. An old year passed away. To mark that, I spent five days writing up a comprehensive review of the last year, and planning for the year ahead.
In the course of writing up a plan, I wanted to have the right idea about plans and planning. I wanted to ask myself how I ought to think about such things, since I knew that would affect the manner in which I planned, and whether my plans were successful or not.
My favorite quote about planning came to mind. Dwight Eisenhower, Supreme Commander of Allied Forces during World War II, and 34th President of the United States of America, once famously quipped:
"In preparing for battle I have always found that plans are useless, but planning is indispensable."
After years of pondering this quote, I have come to believe he meant that the process of analyzing the battlefield, its terrain, the weather, your own forces, and the enemy – all of which you must do in planning a battle – gives you insight into what to do as the battle unfolds. Yet much changes once the shooting actually starts. Plan to have your plans disrupted. Plan to change your plan as you go.
Knowing that things will not go according to plan is not a good reason to not plan. On the contrary, you should come up with a plan, and go through that process. Only be willing to modify your plan, or even abandon it, as new challenges and opportunities you did not anticipate become apparent.
If The Lord Wills
In James, my favorite book of the New Testament, we read the following nugget:
Come now, you who say, "Today or tomorrow we will go into such and such a town and spend a year there and trade and make a profit"— yet you do not know what tomorrow will bring. What is your life? For you are a mist that appears for a little time and then vanishes. Instead you ought to say, "If the Lord wills, we will live and do this or that." As it is, you boast in your arrogance. All such boasting is evil. So whoever knows the right thing to do and fails to do it, for him it is sin.
Here I will confess. In my younger years, I took this verse to mean we should not make any plans whatsoever. Rather, I thought it meant we should just leave everything to God's Sovereign will, and let the Holy Spirit guide and direct whatever we will do as we go.
Yet over the years of considering it, I do not believe that is the meaning or intention of the passage. Rather, James is talking about boasting about our plans versus humbly acknowledging that we are in God's hands, that our plans may not come to fruition, or that God may have other and greater plans which interrupt ours at some point. In other words, as Christians, we should leave room in our plans for God to move and to act. He undoubtedly wants to.
And, after all, there are other places in the Scriptures where plans and planning are spoken highly of.
Proverbs About Plans
Consider the following Proverbs:
Without counsel plans fail,

but with many advisers they succeed.

Commit your work to Yahweh,

and your plans will be established.

The heart of man plans his way,

but Yahweh establishes his steps.

Plans are established by counsel;

by wise guidance wage war.

The plans of the diligent lead surely to abundance,

but everyone who is hasty comes only to poverty.
In none of these do we see a denigration of plans or planning. In none of these do we see God frowning on the process of organizing our time, setting goals, or trying to accomplish tasks in a certain time-frame.
What we see instead is that plans are good, and that we should factor others into ours. For one thing, we are encouraged to loop others into our plans by getting wise counsel from them. Over and above this, however, we see that we should commit our plans to God if we want them to succeed.
But what does it mean to commit our plans to God?
Jesus gives us an answer, I believe.
"Truly, truly, I say to you, whoever believes in me will also do the works that I do; and greater works than these will he do, because I am going to the Father. Whatever you ask in my name, this I will do, that the Father may be glorified in the Son. If you ask me anything in my name, I will do it."
And what does it mean to ask something in his name? It means we have made note of what God's revealed character and will are, and we are asking things that are in keeping with that.
Unless Yahweh Builds The House
Consider also the words of the Psalmist.
Unless Yahweh builds the house,

those who build it labor in vain.

Unless Yahweh watches over the city,

the watchman stays awake in vain.

It is in vain that you rise up early

and go late to rest,

eating the bread of anxious toil;

for he gives to his beloved sleep.

Behold, children are a heritage from Yahweh,

the fruit of the womb a reward.

Like arrows in the hand of a warrior

are the children of one's youth.

Blessed is the man

who fills his quiver with them!

He shall not be put to shame

when he speaks with his enemies in the gate.
We should consider here that God builds. And he makes many plans. Indeed, God is the penultimate planner. He foresaw us in eternity past, that we should be adopted in as sons because of the atoning sacrifice of Christ on the cross. And that is really quite mind-boggling, if you ask me.
Consider also two major examples of God giving detailed plans in the Old Testament.
First, we have Noah. God not only tells him that he plans to send a global flood in judgment for man's wickedness. He also gives him detailed dimensions and materials to use for building the ark that will deliver Noah and his family and two of every kind of creature from that judgment.
Second, we have the tabernacle. When the people of Israel are delivered out of Egypt, God gives specific dimensions and materials for the building of the structure, accessories, and clothes surrounding his place of worship.
So, is this our example to follow? Are we imitating God in some good sense when we make specific plans because God has shown himself to be a planner? Perhaps.
Excessive Flexibility and Rigidity in Planning
I love reading military history, and thinking about strategy. One thing I note in surveying history is that predictable plans are easily disrupted and thwarted by cunning enemies.
For instance, when ancient Rome sent her legions out to fight the barbarians, the barbarian hordes showed a predictable pattern. The barbarians would often come out of their forests in disorganized hordes against the obedient columns and rows of the orderly Romans.
Particularly in the case of the Gauls, the habit was for the hulking barbarian warriors to come to battle naked, or clothed only in war paint. And they would scream at the Romans and shake their weapons to intimidate them, then charge pell-mell into the fray swinging and slashing wildly. This was very intimidating indeed. I am sure it unnerved many of their enemies.
Yet the special strength of the Roman forces was their discipline and training. Their men wore well-designed armor, and carried standardized weapons. Their generals planned battles carefully, and coordinated their forces against the barbarians in such a way that they were able to consistently defeat bluster and ferocity with diligence.
Conversely, in World War I, the stubbornness of many British generals was infamous. In the protracted trench warfare on the battlefields of France, many waves of poor soldiers were sent one after another to their inevitable and meaningless death against well-fortified German machine gun nests. Yet the generals would not adjust their strategy when it proved unsuccessful. And so the war dragged on much longer and costlier than it needed to. And for what? It was failure for the sake of incompetence, vanity, and excessive rigidity.
The Gauls against Rome and the British against Germany would have done well to appreciate Eisenhower's wise saying. Yet he came to it partly by studying their failures.
Be Sober and Vigilant
The Apostle Peter writes at one point to strengthen followers of Christ.
"Humble yourselves, therefore, under the mighty hand of God so that at the proper time he may exalt you, casting all your anxieties on him, because he cares for you. Be sober-minded; be watchful. Your adversary the devil prowls around like a roaring lion, seeking someone to devour. Resist him, firm in your faith, knowing that the same kinds of suffering are being experienced by your brotherhood throughout the world. And after you have suffered a little while, the God of all grace, who has called you to his eternal glory in Christ, will himself restore, confirm, strengthen, and establish you. To him be the dominion forever and ever. Amen."
See here. We have an enemy. He is spiritual, but I believe he is a literal person. There is no reason to believe otherwise.
And this enemy is cunning. He hates God and wants to destroy us because God loves us and made us in his image. Resist him!
Imagine you were out on the African savanna hearing this lion in the night. Would you sleep on the wide open ground, or would you come up with a plan to protect yourself?
Still more, you would not expect a hungry and cunning lion to leave you be if you were careless. Nor would he revere your peace of mind if you had no plan, or a bad one, for protecting yourself. Rather, you can be sure the hungry lion would try to exploit any weakness in your plan, and disrupt it.
Yet faithful God is stronger than the prowling lion. Make plans and submit them to him. And you best believe that his plan is for our good and will not fail.