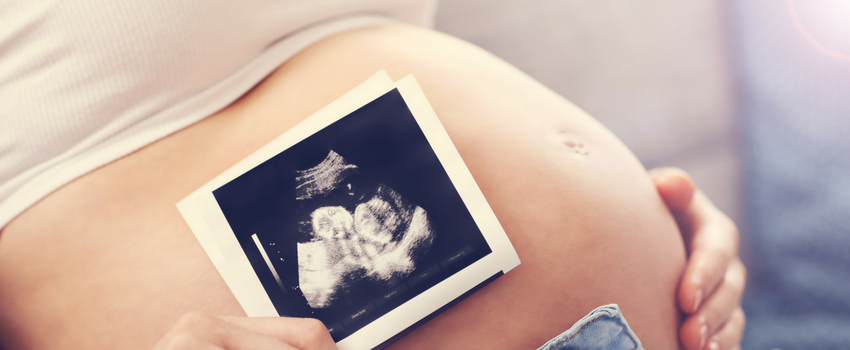 The right to life has been persistently in my thoughts this week.
Last Friday was the 45th annual March for Life in Washington D.C., marking the anniversary of the Supreme Court's 1973 decision in Roe v. Wade.
For the first time in history, the President of the United States of America, Donald J. Trump spoke at the event in defense of the unborn. Further, the White House published a fact sheet Friday outlining this administration's stance on the issue of abortion, as well as where America and the world stands.
Yet more compelling than half-measures and statistics, I am reminded of Dietrich Bonhoeffer's moral clarity on the issue.
"Destruction of the embryo in the mother's womb is a violation of the right to live which God has bestowed upon this nascent life. To raise the question whether we are here concerned already with a human being or not is merely to confuse the issue. The simple fact is that God certainly intended to create a human being and that this nascent human being has been deliberately deprived of his life. And this is nothing but murder.

A great many different motives may lead to an action of this kind; indeed in cases where it is an act of despair, performed in circumstances of extreme human or economic destitution and misery, the guilt may often lie rather with the community than with the individual. Precisely in this connection money may conceal many a wanton deed, while the poor man's more reluctant lapse may far more easily be disclosed.

All these considerations must no doubt have a quite decisive influence on our personal and pastoral attitude towards the person concerned, but they cannot in any way alter the fact of murder."
Infanticide In The Bible
In the first chapter of Exodus, God blesses the children of Israel living in Egypt with lots of children. The Egyptians, stirred up by a wicked king, come to dread the children of Israel. So, they treat them harshly and try to whip them into submission, quite literally. They force them into slavery, and make them build cities for them. They generally do whatever they can to dominate Israel. But the more Israel is mistreated, the more God blesses and multiplies her.
At a certain point, the Egyptians become so desperate that Pharaoh calls the Hebrew midwives to him. He then commands them to kill every son born to the Hebrew women, but to let every daughter live. The midwives disobey this command, and God blesses them for it.
Pharaoh ratchets it up a notch. He tells all of his people, "Every son that is born to the Hebrews you shall cast into the Nile, but you shall let every daughter live." So, all of Egypt is under strict orders from the top to murder every baby boy of the Hebrews.
This makes a different kind of sense of something which happens later in the Exodus story when one of the plagues God sends against Egypt is that the firstborn male of every house without lamb blood over the doorposts will die when the angel of death passes over.
But take note of this: the standing order of Pharaoh to murder all the baby boys of the Hebrews is the context into which Moses is born in the second chapter of Exodus. Moses, then, is born in a time and place where compulsory mass infanticide is the official policy of the ruling government.
The Promised Land
After four-hundred years of hard bondage, God uses Moses to deliver Israel out of Egypt. And God promises to give them the land of Canaan as a possession, and to drive out the wicked peoples and resident giants of that Promised Land for and with Israel.
When God gives Israel that Promised Land, he gives careful instruction as to how he wants them to behave, since the nations of the world know Israel is his chosen people. God tells them, among other things, how he does and does not want them to worship him.
Among the ways God does not want to be worshiped is child sacrifice. In Leviticus 18:21 he says explicitly: "You shall not give any of your children to offer them to Molech, and so profane the name of your God: I am Yahweh."
In Deuteronomy 18:9-13 also, God says:
"When you come into the land that Yahweh your God is giving you, you shall not learn to follow the abominable practices of those nations. There shall not be found among you anyone who burns his son or his daughter as an offering, anyone who practices divination or tells fortunes or interprets omens, or a sorcerer or a charmer or a medium or a necromancer or one who inquires of the dead, for whoever does these things is an abomination to Yahweh. And because of these abominations Yahweh your God is driving them out before you."
We see here that offering children as a sacrifice is demonic, and that God wants no part of it, nor does he tolerate it. Indeed, God says he drove the nations out of the Promised Land for offering their children to demons and other such things.
God Formed and Knitted Us In The Womb
By contrast, David writes in the Psalms:
For you formed my inward parts;

you knitted me together in my mother's womb.

I praise you, for I am fearfully and wonderfully made.

Wonderful are your works;

my soul knows it very well.

My frame was not hidden from you,

when I was being made in secret,

intricately woven in the depths of the earth.

Your eyes saw my unformed substance;

in your book were written, every one of them,

the days that were formed for me,

when as yet there was none of them.
What a contrast! Instead of taking the life of our children to appease false gods, and curry their favor, David writes in wonder of the true God who graciously gives us life. David writes of the God in whose image we are made, who knows and loves us even in the womb.
Indeed, we see here too that God has our lives planned out even before birth. And we see that throughout the rest of the Scriptures also.
In one of the Psalms of Solomon, we read:
Behold, children are a heritage from Yahweh,

the fruit of the womb a reward.

Like arrows in the hand of a warrior

are the children of one's youth.

Blessed is the man

who fills his quiver with them!

He shall not be put to shame

when he speaks with his enemies in the gate.
We see here from Solomon that part of the plan God has for children is to bless parents and create families. Children are a blessing and not a curse. God intentionally gives them to us as parents. They are not born accidentally or for no reason.
Personhood in the Womb
There is no better example of this than the cases of John the Baptist and Jesus the Messiah. In both cases, not only is the pregnancy a miracle – because Zechariah and Elizabeth are old and infertile, and Mary is an unwed virgin – but God has a special and specific plan for the lives of these as-yet unborn boys. One will serve as herald to the promised Son of God. The other will bring God's redemption to mankind.
And when Mary the mother of Jesus visits Elizabeth the mother of John, both pregnant with these two baby boys, we read the following in Luke's gospel:
In those days Mary arose and went with haste into the hill country, to a town in Judah, and she entered the house of Zechariah and greeted Elizabeth. When Elizabeth heard the greeting of Mary, the baby leaped in her womb. And Elizabeth was filled with the Holy Spirit, and she exclaimed with a loud cry, "Blessed are you among women, and blessed is the fruit of your womb! And why is this granted to me that the mother of my Lord should come to me? For behold, when the sound of your greeting came to my ears, the baby in my womb leaped for joy. And blessed is she who believed that there would be a fulfillment of what was spoken to her from the Lord."
We see here that unborn John recognizes the presence of unborn Jesus. What is more, the Holy Spirit makes known to Elizabeth that the promised Messiah is in her midst. This can only mean that the unborn child is a person.
Their Right to Life, Our Responsibility to Life
Knowing for a certainty that the unborn are human persons, we know also that killing them is shedding innocent blood. Or if killing the unborn child is not shedding innocent blood, then nothing is. And as we read in Proverbs 6:16-19, hands that shed innocent blood make the short list of things God hates and which are abominable to him.
As Christians, how should we respond to the issue of abortion in our day? Take heed to what is written in Proverbs.
If you faint in the day of adversity,

your strength is small.

Rescue those who are being taken away to death;

hold back those who are stumbling to the slaughter.

If you say, "Behold, we did not know this,"

does not he who weighs the heart perceive it?

Does not he who keeps watch over your soul know it,

and will he not repay man according to his work?